Back in January, a number of my friends were talking about their word for the new year - clean, freedom, and others I don't remember. I was inspired. I thought hey! I'd like to have a word of the year. :D And then.... crickets. There was just no word that surfaced in my mind to be my word of the year, to inspire me, and keep me motivated. And after a while, I forgot I wanted a word of the year.
Fast forward to April, and I came across the phrase "Buy Nothing New". Whoooa!! That's it! I don't need a word of the year, but a phrase of the year - yes! Buy Nothing New - that is sooo me!! It speaks to my desire to tread easy on the earth, save money, take my time with new purchases, and shop thrift stores, antiques stores, and auctions.
Of course in April, we did buy new sandals for Isabelle right before walking into the children's resale store and finding barely worn sandals for less than 1/3 the price of new. doh! And there was the electric skillet I bought when there was and still is a vintage corning electric skillet with removable stoneware at the antiques store for only $10 more. (I may still go and buy one since there are two.)
Much like the one I didn't buy.
These two experiences cemented my commitment to Buy Nothing New for the rest of this year. There are, of course, exceptions - underwear, safety equipment, contact lenses and glasses, some sewing supplies and yarn; and probably a few other things that I haven't thought of yet. But for the most part, everything a family needs to make a home and thrive is already out there to purchase without buying new at the big box stores or even locally owned businesses. Buying new sends a message to manufacturers that they need to produce more and if we get in the habit of buying used, then less resources (water among others) will to into manufacturing.
Which brings me to yesterday's baking session - banana nut muffins which start out with creaming the butter and sugar. No problem, right? Have you ever tried creaming butter and sugar with a fork? No? How about a whisk? It just doesn't go well which results in flat muffins. The flavor was still good, but they're not light and fluffy (no air).
So I've been kicking around the idea for a while to get an old-fashioned egg beater to use for creaming butter and sugar, and today was the day to head out and see if I could find one at the GoodWill store (nope) or the thrift store down town (nope) before looking at the antiques mall which I knew had a half dozen of them the last time I went for a walk there.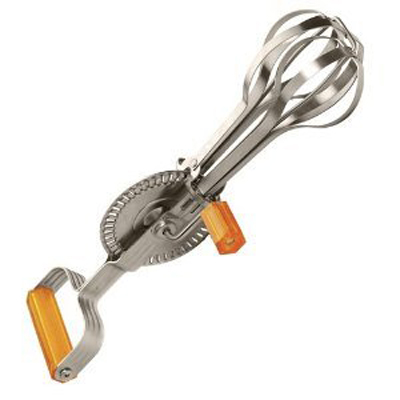 http://www.thebakerskitchen.net/images/products/detail/rsvphandcrank.jpg
Pickings were slimmer this time as we only found two, one of which was too rusty to be used as anything but a display item. And then..... we found an egg beater with its own glass bowl. Oooohhhh the possiblities. Granted the price jumped from $12 to $25 when the bowl was added, but who am I to turn down a glass mixing bowl? So yes, it came home with us.
It will get a thorough cleaning before I start trying it out. I see creaming butter, beating egg whites, and making butter in its immediate future.
There were also some bags of brightly colored balls of yarn that I picked up to add to my stash. It's not a lot that I'm adding, and I know I'll use it to crochet flowers for a wall-hanging I'll be making for Isabelle's bedroom.
Please reply in the comments. Thanks!
Cheers!
AnnDenee